Polytek Platsil Siliglass is a two component addition cured RTV silicone. Siliglass Cures to a water clear finish.  This crumbles easily to create perfect glass-like shards and crystals. Used in the Special FX industry where real glass is to dangerous to use.  It is also used to encapsulate objects or to simulate water.
| | |
| --- | --- |
| Polytek Platsil Siliglass | Unit |
| Mix Ratio By Weight | 1A : 1B |
| Pot Life / Working Time | 5 mins |
| Demould Time @ 25°C | 3 hrs |
| Full Cure Time | 24 hrs |
| Shore A Hardness | A40 |
| Mix Viscosity | 190 |
| Specific Gravity | 0.97 |
| Cure Colour | Clear |
Can be easily cast into a flat sheet to simulate glass panes. Example of ice effect & glass shards below :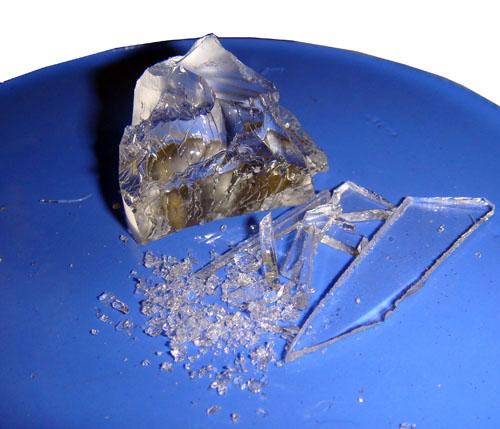 Inhibition of Cure
Great care must be taken when handling and mixing all addition-cured silicone elastomer systems, that all the mixing tools (vessels and spatulas) are clean and constructed in materials which do not interfere with the curing mechanism, do not use wood and paper mixing utensils. The cure of the rubber can be inhibited by the presence of compounds of nitrogen, sulphur, phosphorus and arsenic; organotin catalysts and PVC stabilisers, epoxy resin catalysts and even contact with materials containing certain of these substances e.g. moulding clays, sulphur vulcanised rubbers, condensation cure silicone rubbers, wood, paper, cardboard, onion and garlic.